Catalysts Production and Supply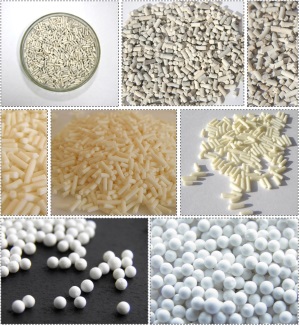 SIE Neftehim, LLC is a developer and supplier of the catalysts for gasoline fractions isomerization, reforming, hydrotreating processes, and other processes. The catalysts production technology and formulation are protected by the patents and patent applications in Russia, the EU, China, India, and other countries.
The catalysts are supplied all over the world according to the international requirements and standards. At the request of a customer, any Incoterms delivery terms can be applied. An audit of an independent international expert can also be arranged during goods loading and shipping.
Continuous quality control at all stages of production and supply of our catalysts, as well as direct participation of SIE Neftehim, LLC experts during loading and start-up operations at units ensure the high quality of our products.
All supplied catalysts undergo analytical control and experimental test at research and development laboratory of SIE Neftehim, LLC enabling to simulate processes under the conditions as close as possible to the commercial ones. Regular researches are conducted to improve product quality and develop new products.
At the present time, SIE Neftehim, LLC supplies the following types of catalysts:
Catalyst brand

Purpose

Description

SI-1

as per TU (Technical Specifications) 2177-021-04706197-2014

Catalyst for medium-temperature isomerization of С5-С6 paraffin hydrocarbons

Platinum-containing zeolite catalyst for light gasoline fraction isomerization

as per TU (Technical Specifications) 2177-009-04706197-00 rev. 8

Catalyst for low-temperature isomerization of С5-С6 paraffin hydrocarbons

Platinum-containing strong-acid oxide catalyst protected by patents in the Russian Federation and foreign countries. It is used in Isomalk-2 process and for replacement at the existing light gasoline fraction isomerization units

as per TU (Technical Specifications) 2177-017-04706197-2013 rev. 1

Catalyst for isomerization of normal butane into isobutane

Platinum-containing strong-acid oxide catalyst. It is used in Isomalk-3 process

as per TU (Technical Specifications) 2177-016-04706197-2012 rev. 1

Heptane fraction isomerization catalyst

Unique platinum-containing oxide catalyst protected by patents in the Russian Federation and foreign countries. It is used in Isomalk-4 process

as per TU (Technical Specifications) 2177-015-04706197-2012 rev. 1

Reforming catalyst for semi-regenerative reformers (SRR)

Modified alumina-platinum catalyst with increased stability for fixed-bed reforming

as per TU (Technical Specifications) 2177-018-04706197-2012 rev. 3

Reforming catalyst for continuous catalytic reformers (CCR)

Modified alumina-platinum catalyst of spherical shape for moving-bed reforming

as per TU (Technical Specifications) 2177-020-04706197-2013 rev. 1

Catalyst for isomerization of xylenes and ethyl benzene mixture into ortho- and paraxylene

Platinum catalyst on active alumina and mordenite support. It stands out for its increased stability

DS-20, DS-120

as per TU (Technical Specifications) 2177-007-04706197-98 rev. 4

Gasoline fraction hydrotreatment catalyst

Co and Ni-Mo oxide catalysts intended for efficient treatment of feed to remove sulfur and nitrogen

MCat-17, MCat-18

as per TU (Technical Specifications) 2178-024-04706197-2018

Carbon oxide methanation catalyst

Oxide catalyst intended for fine purification of hydrogen gases from carbon oxides

НCat-18

as per TU (Technical Specifications) 2172-028-04706197-2018

Catalyst for hydrogenation of benzene to cyclohexane

Oxide catalyst intended for benzene hydrogenation in oil distillates