C5-C6 fractions isomerization ISOMALK-2
Pentane-hexane fraction isomerization to produce high-octane component of motor gasoline
Pentane-hexane fraction isomerization process is one of the most efficient methods for production of high-octane components of gasolines with enhanced ecological properties.
Naphtha isomerization is an integral part of motor gasoline production according to the requirements of high ecological standards and is widely used in petrochemistry for production of individual alkanes.
Isomalk-2 technology has been recognized thanks to combination of process efficiency, utilities savings and absence of hazardous effluents.
Isomalk-2 technology advantages
1. Low temperatures of the process allow isomerization reactions to proceed in thermodynamically favorable conditions. Minimum cracking level in the process provides for target product yield of up to 99 wt. % per feed.
2. Isomalk-2 technology does not involve reagent supply, there is no process equipment corrosion. No process wastes and effluents that require disposal are generated. The product does not contain chlorine and sulfur impurities.
3. Minimum OPEX.
4. High robustness of the catalytic system. SI-2 – catalyst service life is more than 12 years, temporary increase in feed impurities content does not lead to irretrievable loss of the catalyst activity.
5. The catalyst does not require any regeneration or reloading during the whole service life.
Isomerization process with minimum OPEX
1. Reactors inlet temperature in Isomalk-2 process remains low (120-140°С) during the whole catalyst service life, ensuring considerable isomerization depth.
2. High catalyst activity in pentane-hexane fraction isomerization reactions allows reducing recycle amount in configurations with recycle.
3. Tolerance to catalytic poisons makes it possible to omit special aftertreatment of feed to remove sulfur and nitrogen impurities, as in configurations with chlorinated catalysts.
4. The process involves no expenses for high-priced reagents for feed and treatment to remove chlorine impurities in exhaust hydrocarbon gas.
5. Shutdown quantity during 12 years of operation and accordingly unit maintenance expenses are minimum.
When converting the existing naphtha isomerization unit operating over chlorinated or sulfated catalyst to Isomalk-2 technology, it is possible to achieve 20–25% reduction in OPEX and to increase product yield.
Ease of introduction
Isomalk-2 technology is universal for any new or existing refinery. Isomalk-2 technology cab be introduced via:
1. Revamp of existing isomerization units operating over zeolite catalysts.
2. Use of idle fixed-bed reforming facilities.
3. Replacement of chlorinated or sulfated catalyst with SI-2/SI-2B catalyst without unit revamp.
4. Construction of a grass-root unit to achieve the highest possible product quality with minimum OPEX and CAPEX.
We are ready to conduct a free technical and economic assessment of Isomalk-2 technology introduction for your enterprise. For this, please contact us through feedback form.
More than 30 references and feedbacks from refineries in Russia, China, the USA, the EU, India, the Middle East and the CIS countries confirm the robustness and effectiveness of Isomalk-2 technology.
Many projects were implemented via revamp of the existing isomerization and reforming units. No reconstruction is required for conversion from chlorinated system.
How does Isomalk-2 unit operate?
Isomerization feeds are light naphtha from primary treatment sections and secondary origin light gasoline. Octane number increase is achieved via increasing isoparaffins' proportion in the product by passing preheated feed through SI-2 catalyst bed in the presence of hydrogen.
As a rule, the process proceeds in one or two reactors at the temperature of 120-140°C and pressure of up to 35 atm.
Isomerization Unit represents a process system consisting of sections interconnected by process flows:
Isomerization Reactor Section (including Feed Heater, Reactors and Hydrogen Gas Drying Block, Compressor, Separator, and Heat Exchangers; it is possible to implement the process with hydrogen "once-through" feeding);
Produced Isomerate Stabilization Section to remove hydrocarbon gas (С1-С4) and dissolved hydrogen residues from the product (consisting of Stabilizer and related equipment);
Additionally, the configuration may include Precise Fractionation Column Sections for recovery of separate hydrocarbon fractions to increase product octane number.
Unlike technologies using chlorinated catalysts, Isomalk-2 unit does not require special adsorptive treatment of feed to remove sulfur, nitrogen, and water impurities. The necessary requirements for impurities contents are achieved by conventional hydrotreatment of feed.
Process configuration options
Depending on the selected product fractionation design, it is possible to produce isomerate with different octane numbers, as well as individual alkanes of iso- or normal structure without sulfur, nitrogen impurities, chlorine compounds or aromatics.
Process configuration options


for pentane-hexane fraction isomerization

Mixed product


RON

Yield, %

"once-through"
81-84
99+
hexanes recycle
87-88
98+
feed deisopentanization and hexanes recycle
89-90
98+
pentanes and hexanes recycle
91-93
98+
Isomalk-2 technology catalytic system
Isomalk-2 technology basis is zirconium oxide catalyst SI-2 developed by SIE Neftehim. All the above advantages of Isomalk-2 process are achieved thanks to the unique properties of this catalyst.
Commercial production of SI-2 catalyst began in 2003 and had been continuously improving since then. Today, all commercial batches of SI-2 and SI-2B catalysts are produced at our own catalyst factory in Nizhniy Novgorod - Nizhegorodskie catalysts, LLC. Other commercial catalysts developed by SIE Neftehim, LLC are also produced at this site.
Continuous improvement
The combination of capabilities provided by the modern research laboratory, the availability of pilot units, and our own catalyst production allows us to improve the produced catalysts with each new batch.
A unique modification of sulfated catalyst named SI-2B was developed as a result of long-term studies. SI-2B catalyst is adapted for use in the units designed for a chlorinated system via catalyst drop-in replacement. Such a replacement does not require unit modifications or even adjustment of routine procedures.
SI-2B catalyst will make it possible to get the advantages of highly active sulfated catalyst with minimum expenses and eliminate the disadvantages of expensive and obsolete chlorinated catalyst system.
For many refineries, the capability of catalyst operation with hydrogen "once-through" gives significant CAPEX savings during construction of a grass-root Isomerization Unit.
SI-2B catalyst operation features make it possible to construct the simplest of all existing options for Isomerization Reactor Section configuration in the world with activity parameters that meet the strictest requirements:
Isomalk-2 unit construction: key stages
If unit conversion from chlorinated or sulfated catalyst to Isomalk technology is possible during any routine overhaul, then it usually takes 2-3 years to implement a new Isomalk-2 project. The whole process from idea to functioning production can be divided into the following main stages:
Inspecting the existing production
Isomalk-2 technology feasibility study
Making a decision on construction and kick-off meeting with all project participants
Development of Basic Engineering Design – - it contains all the fundamental calculations and mandatory technology requirements
Detailed Engineering Design – by a specialized engineering company involved by SIE Neftehim or a customer/investor
Ordering the equipment
Construction
Personnel training in unit operation procedure and skills
Catalyst supply
Pre-commissioning
Start of target product manufacturing
Experienced experts of SIE Neftehim give project support at all stages, as well as monitor the current operation of a unit and, if necessary, provide recommendations for performance improvement.
SIE Neftehim always promptly provides consulting and technical assistance in solving refinery's current production tasks.

To start working with us, you can send a letter through our feedback form.
---
Additional materials to the article:


OilMarket, №1-2017, p. 24-33, 1 MB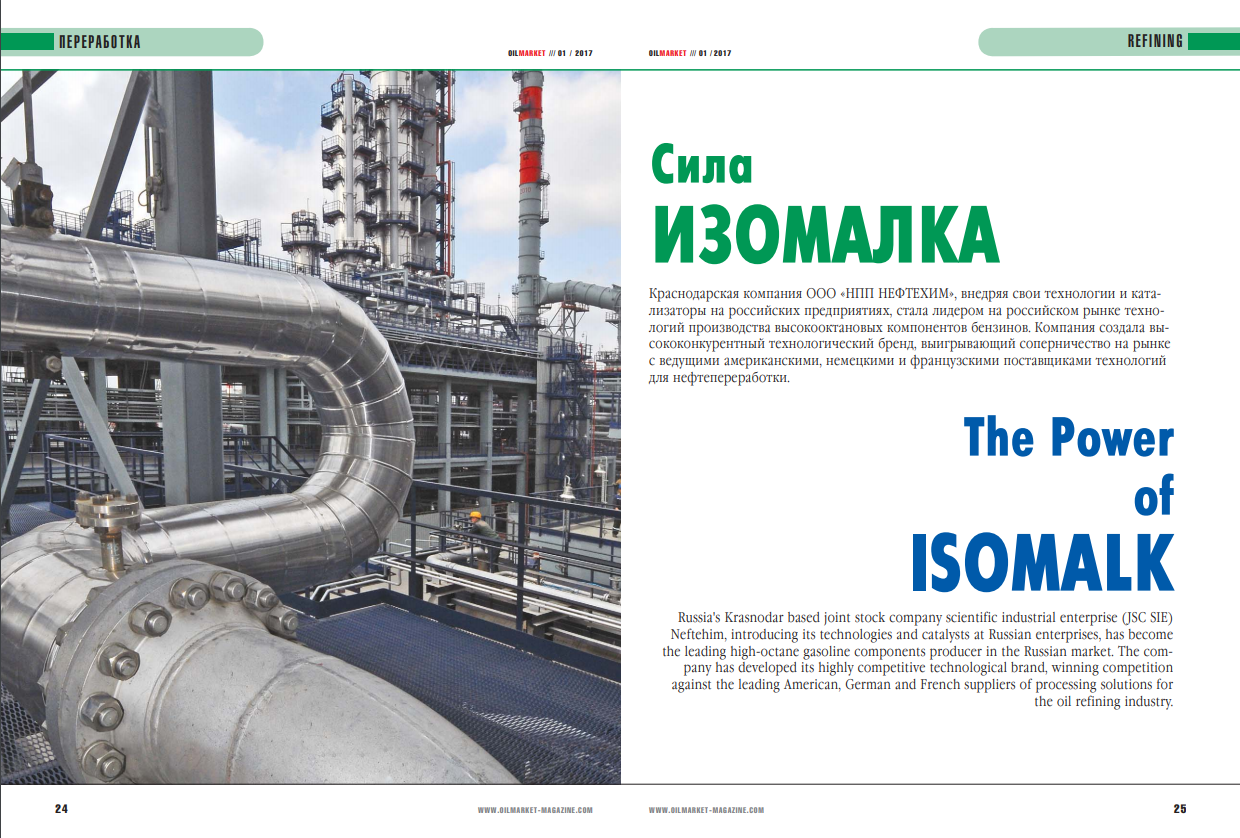 Technopolis XXI, №33-2016, 300 KB
Full list of SIE Neftehim publications in print media
Isomalk-2 technology and commercial isomerization catalyst SI-2 are protected by Russian and international patents.
"Isomalk" and "SI" are registered trademarks. All rights reserved by SIE Neftehim, LLC.
SIE Neftehim, LLC Patents and Certificates