Reforming SRR Catalysts
Fixed-bed reforming for production of aromatics and high-octane motor gasoline
The process of naphtha catalytic reforming is an important element of the oil refining industry. The main product of reformers (the high-octane component with the high aromatics content) is widely used in the production of motor gasoline.
In addition, catalytic reforming is the main process in the production of aromatics for downstream petrochemical synthesis processes.
Hydrogen gas produced during the reforming is required for the operation of other oil refining processes.
Therefore, the development of efficient reforming catalysts and increasing their efficiency are crucial industry tasks.
The reforming process is widely known, and the production of catalysts is established in many industrially advanced countries of the world. The performances and reformate production costs in refineries differ depending on the efficiency of the catalysts used.
Complete or partial replacement of a catalyst in an existing fixed-bed catalytic reformer without equipment upgrading can increase the octane number and product yield even under milder operating conditions.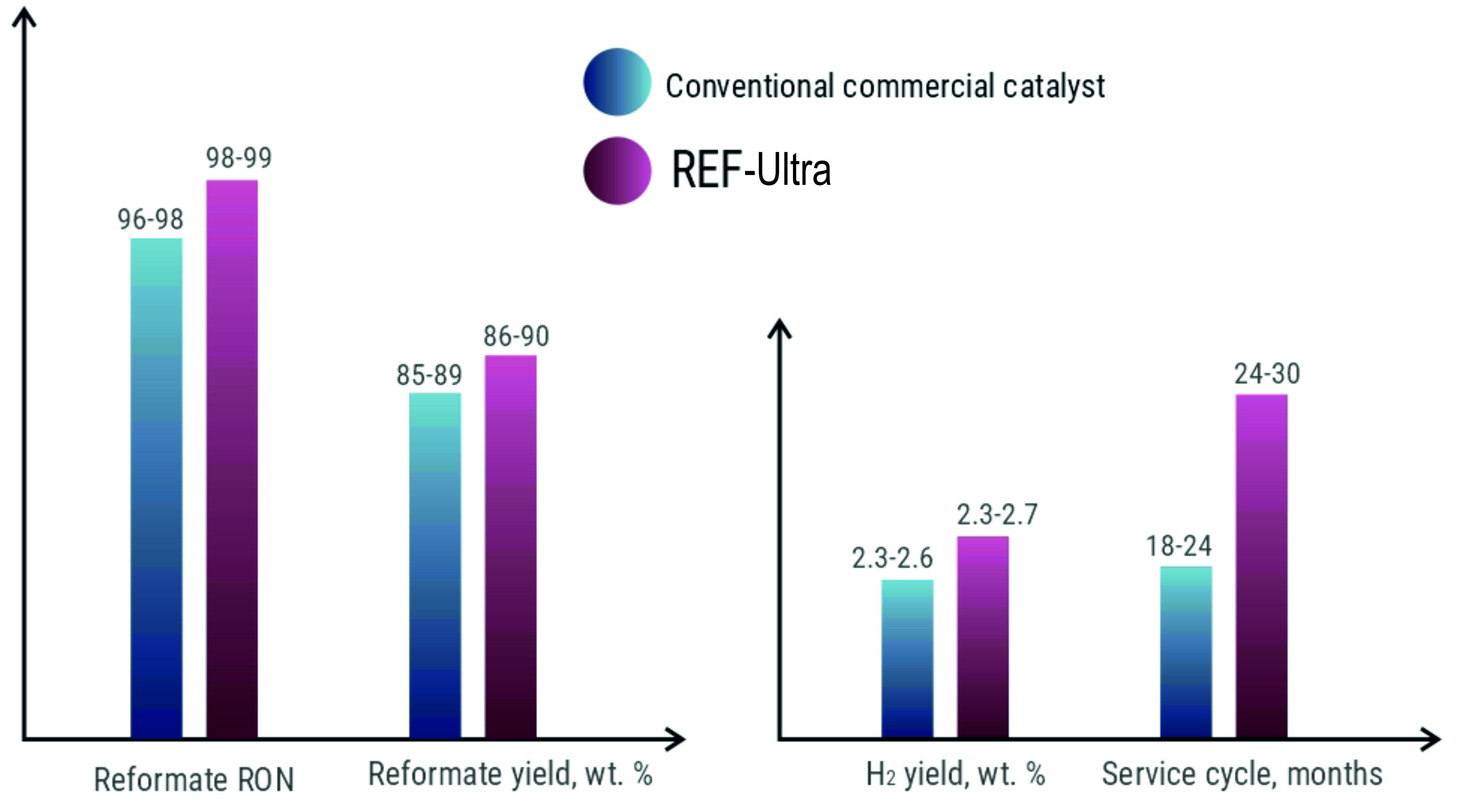 Comparison of reformate specifications produced over a conventional fixed-bed reforming catalyst vs REF-Ultra catalyst under the same operating conditions.
Benefits
1. REF series catalysts are more stable than the existing analogues
2. Period between regenerations (service cycle) of REF series catalyst is up to 4 years.
3. Low OPEX due to the catalyst ability to operate under milder operating conditions meeting the required performances.
4. Higher reformate yield under comparable operating conditions
5. Higher hydrogen yield due to increased catalyst stability and selectivity
6. Product octane can be as high as 99 RON depending on feed composition and production purpose
7. High aromatics yield in the units operating under aromatics production mode

REF series
– up-to-date polymetallic catalysts based on high-purity alumina with addition of a stabilizing and promoting complex specifically developed by SIE Neftehim, LLC.
Key specifications:
Item*

SIE Neftehim catalysts

Catalysts of world-known manufacturers

REF-Ultra

REF-130

REF-125

Reformate RON

up to 99

96-98

96-98

96-98

С5+ reformate yield, wt. %

86-90

85-89

85-89

85-89

H2 yield, wt. %

2.3-2.7

2.3-2.7

2.3-2.6

2.3-2.6

Catalyst service life, not less than, years

8-10

8-10

8-10

up to 8

Service cycle, months

24-30

18-24

18-24

18-24
*The values may vary depending on the operating mode severity. Estimation of the guaranteed performances and selection of the catalyst modification both are based on feed composition and specific features of an operating catalytic reforming unit.
Quality warranty
All catalysts produced by SIE Neftehim undergo three stages of quality control, including production control, laboratory control, and pilot testing in the licensor's laboratory to confirm the guaranteed performances.
SIE Neftehim adheres to a customized approach to the proposed process solutions. For each Customer, we select the optimum catalyst that best meets the current and upcoming needs.
Technical support
Any existing unit can be converted to REF series catalysts during a scheduled turnaround. Grassroot construction and start-up of the reformer will typically take 2-3 years. Grassroot construction can be divided into the following key stages:
Inspection of the existing production facilities
Feasibility study of reforming process introduction
Decision-making for the construction and holding KOM attended by all the project parties
Development of Basic engineering design containing all basiс design estimations and technology requirements to be met
Detailed engineering performed by a qualified contractor engaged by SIE Neftehim or a customer/investor
Equipment ordering
Construction
Personnel training in unit operating skills
Catalyst supply
Commissioning
Target product production start
Experienced experts of SIE Neftehim give project support at all stages as well as monitor the current operation of a unit and, if necessary, provide recommendations for performance improvement.
SIE Neftehim always promptly provides consulting and technical assistance in solving current production tasks.
SIE Neftehim, LLC experts are ready to provide you with prompt consultations and preliminary estimation of the unit operation over REF series catalysts based on the current feed and refinery capabilities.
For consultations, please send us a message through the feedback form. We will certainly reply to you. Please do not forget to provide your contact information.

---
Additional materials to the article:
---
ISOPLAT Process. Effective Production of Ultra-low Aromatics Gasoline
Combined Processing of Wide Naphtha IBP-180°С
---
Review of new technology ISOPLAT to produce environmentally friendly high-octane gasoline components with ultra-low aromatics and benzene contents
Article in monthly trade magazine OilMarket (2019-No.2)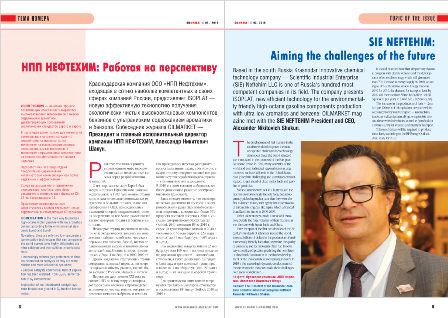 Article in monthly trade magazine Exposition Oil & Gas (2017-No.2) (in Russian only)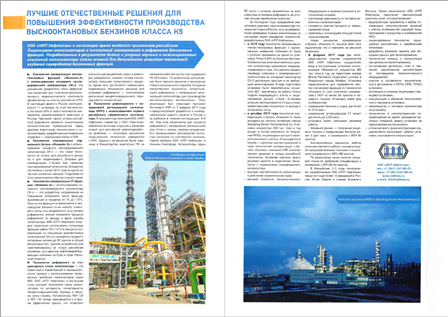 ---
Full Publications List of SIE Neftehim
All SIE Neftehim, LLC developments are protected by Russian and international patents.
SIE Neftehim, LLC Patents and Certificates