SIE Neftehim, LLC at EGYPS 2022
SIE Neftehim, LLC took part in the annual international exhibition Egypt Petroleum Show 2022 (EGYPS 2022) held on 14-16 February in Cairo (Egypt).
It is one of the most important events for the North Africa and the Mediterranean oil and gas industry, with over 32,000 visitors and over 500 exhibiting companies.
Timofey Karpenko, Deputy CEO for New Projects, gave a paper on the possibilities for improving the efficiency and environmental friendliness of oil refineries and petrochemical enterprises using solutions, technologies, and catalysts developed by SIE Neftehim.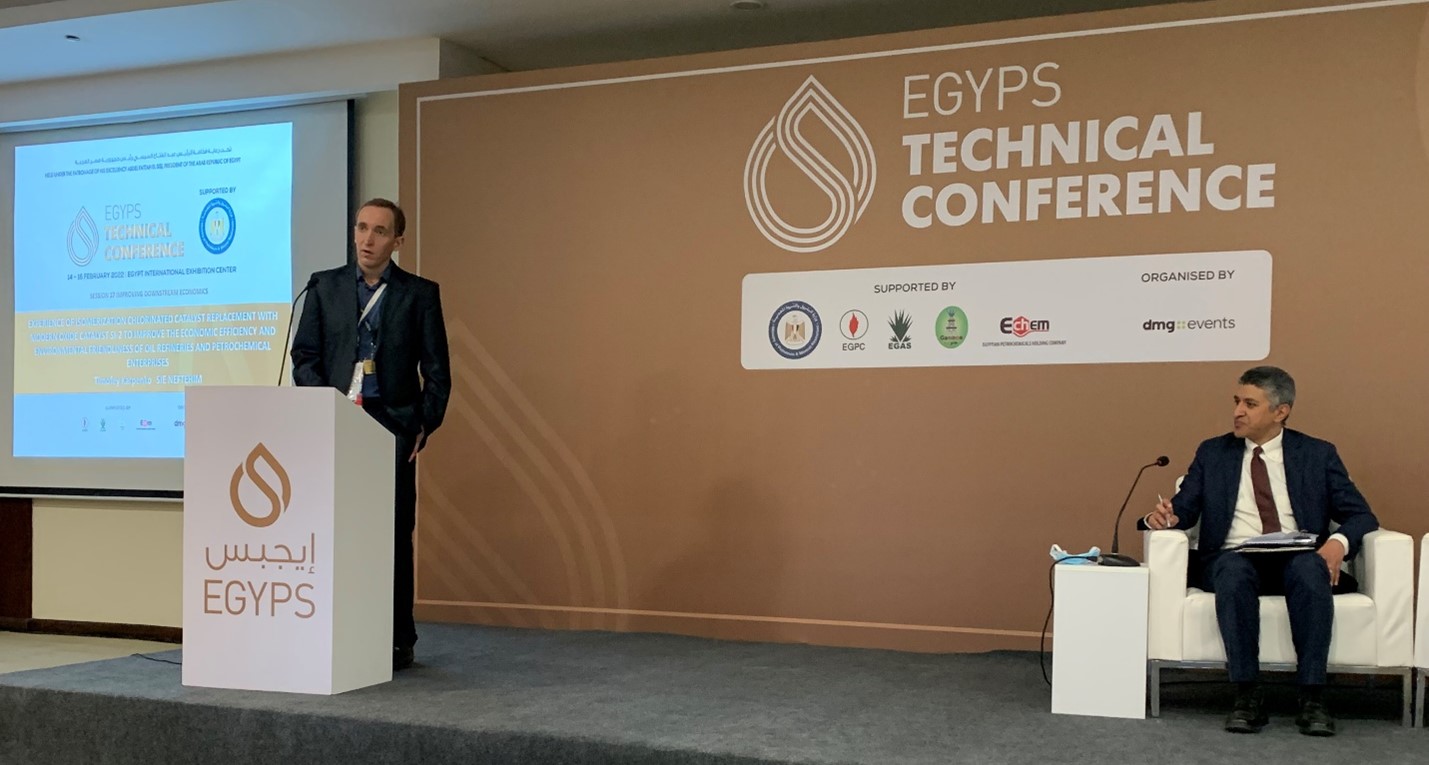 The company took part in the Egypt Petroleum Show for the second time (the first one in 2020). However, over a short period of time since the last presentation, SIE Neftehim, LLC has made extensive research.
The company has created and improved the technologies that are in demand on the market: isobutane reverse isomerization and isopentane reverse isomerization. A new generation of the naphtha isomerization and reforming catalysts has also been developed, which allow increasing the yield and improving the gasolines quality. The C7 fraction isomerization technology Isomalk-4 has been improved, which makes it possible to isomerize 70-105°C fraction into a high-octane component at the lowest cost.
In addition, in 2021, a chlorinated isomerization catalyst was successfully replaced with the SI-2 catalyst at a large unit with hexanes recycle. This revamp has shown how it is possible to obtain the product of the same quality, but excluding costs for reagents, corrosion and caustic wastes, increasing the catalytic system reliability and reducing energy consumption. This decision attracted a special attention of the exhibitors.