SIE Neftehim is one of 8 Russian companies at the largest oil and gas exhibition in Egypt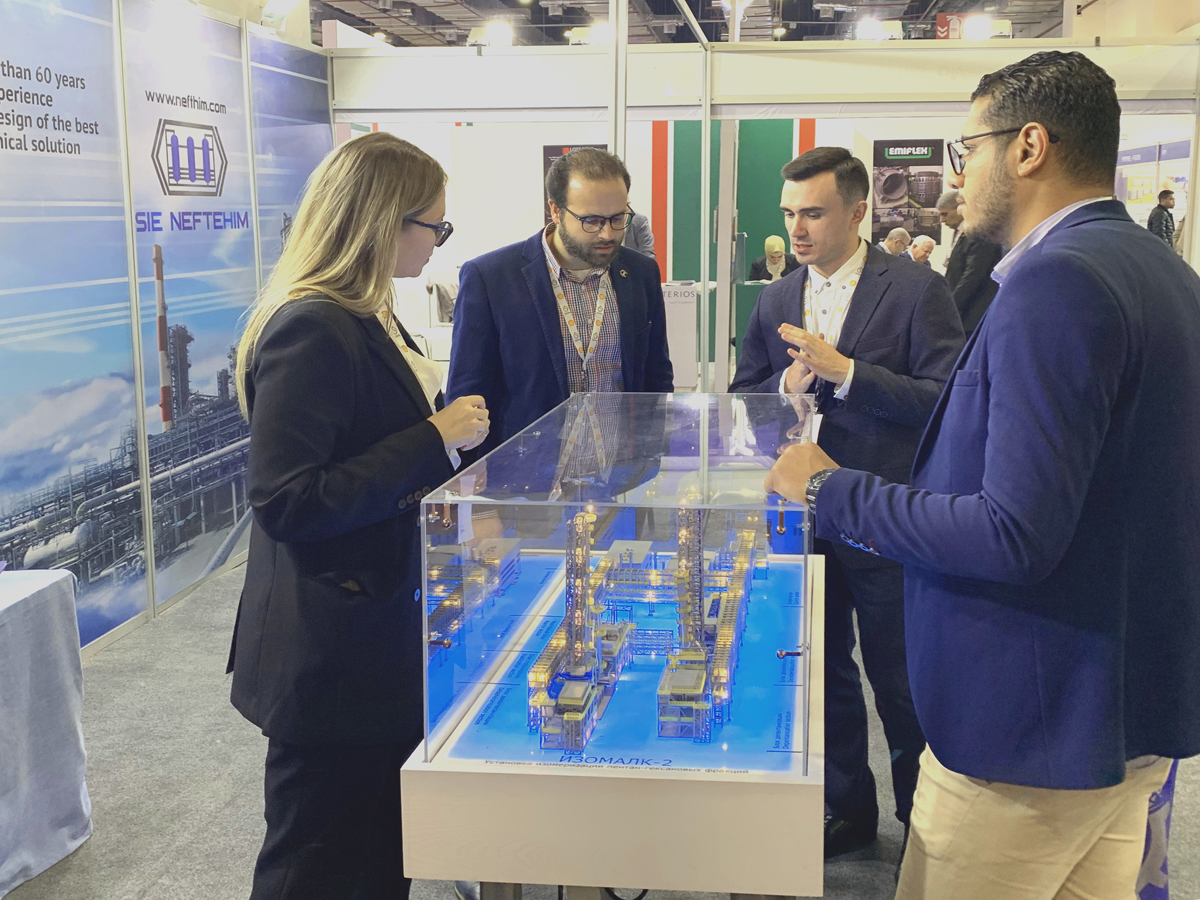 This year, EGYPS-2020 (Egypt Petroleum Show-2020, Cairo, Egypt) was visited by more than 30,000 people. The exhibition is the largest event in the oil and gas industry in North Africa and Mediterranean region.
The Russian cluster was represented by eight exhibitors, including SIE Neftehim.
Traditionally, the Minister of Petroleum and Mineral Resources of Egypt - Tarek El Molla visited the exhibition.
The EGYPS-2020 program included a large scientific conference with participation of top officials and direct discussion of real problems and needs of the industry at the highest level.
Timofey Karpenko, SIE Neftehim Chief Technology Officer, made a report on modern technologies for producing high-quality motor gasolines.
SIE Neftehim presented the technology for pentane-hexane cut isomerization Isomalk-2 over SI-2 catalyst that is well-known and well-proven in Russia, China, India, Europe, the CIS and the Middle East.
Each visitor of SIE Neftehim's stand could study 3D-model of Isomalk-2 isomerization unit on scale of 1:250 and become personally certain of the technology versatility.
The large Egyptian edition Pipeline Oil & Gas News published a number of articles dedicated to SIE Neftehim's technologies and products:
Pipeline Oil & Gas Egypt, February 2020 (issue on EGYPS-2020 exhibition), №2, full issue (Open in new tab, 10MB)
Pipeline Oil & Gas Egypt, February 2020 (issue on EGYPS-2020 exhibition), №2, page 24, page 46
The report of SIE Neftehim Chief Technology Officer in the scientific conference: Modern isomerization and reforming technologies for enhancement of quality and yield of Euro-5 compliant motor gasoline (Open in new tab)