Reforming Catalysts
REF Series Reforming Catalysts for Semi-regenerative Units (Semi-regenerative Reforming)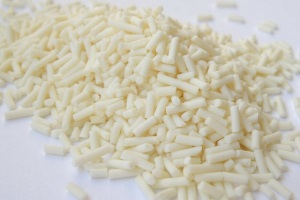 REF series reforming catalysts for fixed-bed units were developed by SIE Neftehim, LLC and introduced into the industry in the 1990s. REF-21, REF-23 m.А and B, REF-24 catalysts have been well recognized at Russian refineries.
Today SIE NEFTEHIM, LLC introduces a new line of this series - REF-125 and REF-130 catalysts – notable for their higher stability.
The new catalysts are based on the same support with introduction of stabilizing complex. REF-125 and REF-130 provide high performances in terms of activity, selectivity, cycle length and total service life, the difference between these catalysts consists in platinum and rhenium ratio.
Due to higher stability the new generation of REF catalysts makes it possible to yield reformate with 96-99 RON.
Specifications of REF -125 and REF-130 catalysts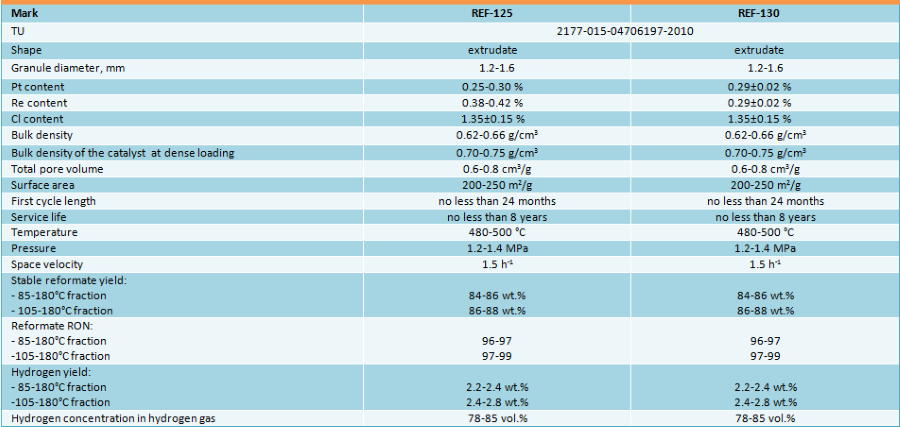 REFORMING CATALYST RC-12 for continuous catalyst regeneration (CCR) units (moving- bed units)
SIE Neftehim, LLC has developed CCR reforming catalyst RC-12, which is highly competitive with the performances of CCR catalysts by other producers.
RC-12 is high-active Pt and Sn reforming catalyst for continuous catalyst regeneration units, designed for production of reformate with maximum yield and octane number.
RC-12 catalyst provides:
maximum С5+ and hydrogen yield due to high selectivity;
low coking at severe operating mode;
process flexibility due to high density of the catalyst;
minimum reduction of surface area during the total operating cycle of the catalyst;
high mechanical strength, providing minimum attrition and fines generation;
long service life.
Specifications of reforming catalyst RC-12

SIE Neftehim, LLC experience of successful development and introduction of reforming catalysts is proved by many years of reforming units operation in Russia
REF SERIES AND RC-12 CATALYST PRODUCTION AND SUPPLY CONDITIONS:
the catalyst is supplied by developer and Licensor SIE Neftehim, LLC.
SIE Neftehim, LLC is liable for and warrants supply and meeting the guaranteed performances